Singularity University Islamabad Chapter Holds First Event on Technology for the Greater Good 16th Mar, 2018

Jerome C. Glenn, a renowned futurist co-founder, CEO of the Millennium Project described how humans and technology are increasingly merging to eventually become a Conscious-Technology Civilization. The quality of the merger would be determined by how well the mystic and technocrat can synergize, in his opinion. He was speaking as the keynote speaker at the event organized by the Islamabad Chapter of the Singularity University at the COMSTECH auditorium.
Other speakers of the event included Dr. Shaukat Hameed Khan (Coordinator General COMSTECH), Senator Musadiq Malik (Advisor to PM), Mr. Yusuf Hussain (CEO, Ignite), Ms. Puruesh Chaudhary (CEO, Agahi Foundation), Dr. Shahid Mehmud (Member, Singularity University Islamabad Chapter).
Singularity University Islamabad Chapter organized the first of its quarterly series' events hosted by COMSTECH Secretariat and supported by IGNITE (National Technology Fund) in Islamabad. The event brought together enthusiasts, business leaders, academicians, policymakers, media, civil society, and students. The first event broadly concentrated on Technology for the Greater Good of Society.

"COMSTECH is attempting to embed a culture of the 'thinking mind' among OIC academics who will drive change and transformation in an age of prosperity for all, a congruence between technical capabilities, social capital and attitudes," says Dr. Shaukat Hameed Khan, Coordinator General of COMSTECH, Islamabad.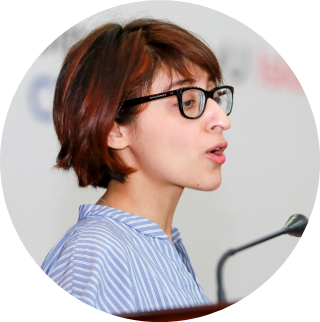 Puruesh Chaudhary a Futurist and an SU Alumni, in her founding remarks explained the Chapter's focus on the human purpose driving the next wave of technologies in the 4th Industrial Revolution. SU focuses on positively impacting the world's greatest challenges through the use of exponential technologies – those which are rapidly accelerating and shaping major industries and all aspects of our lives including, artificial intelligence (AI), augmented and virtual reality (AR/VR), data science, digital biology, medicine, nanotech and digital fabrication, networks and computing systems, robotics, and fintech.
Mr. Yusuf Hussain, CEO IGNITE emphasized on humane values, and remarked that "Humane values must be consciously and proactively built into the innovation value chain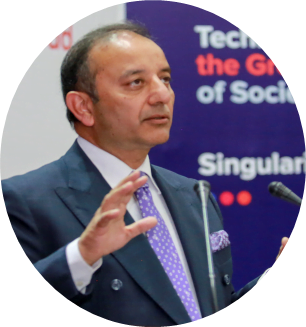 Senator Musadiq Malik (Advisor to the Prime Minister) was of the opinion that prosperity is connected with innovation, creativity and human ingenuity. He further explained that "It appears from raw data that innovation may not be causing prosperity but certainly innovation has something to do with prosperity". So while not claiming any causal relation he pointed out the correlation between the two.
Dr. Shahid Mehmud (Member of SingulariyU Leadership Team) talked about the issues that humans have already started facing because of depleted resources and increasing population. In his opinion, "humanity's new war is how do we sustain the 9 billion population in the next 24 years, and that is where Singularity University is playing its role".
This event served as a platform not only for tech enthusiasts, but also for the start-ups which are working to further the cause of prosperity and wellbeing for society. Four startups actively engaged with such innovations briefly introduced their ideas to the audience. These were, a) Clean drinking water using polymeric technology by Mr. Shayan Sohail Sarwar, b) Online Disease Diagnosis System for Livestock introduced by Dr. Malik Jahan, c) Contrail free Aero Engines (which will help in reducing global warming and inducing artificial rain during flight) by Dr. Sara Qureshi, and d) An Online tool named Mauqa Online which connects uneducated and unskilled workers with nearby work opportunities, developed by Ms. Suniya Sadullah Khan.

The Singularity University Islamabad chapter will be encouraging startups and projects along the following verticals, among others: Agriculture, Energy, Health, Education, and Finance. It will do this by focusing on social impact which should have tangible business outcomes for each targeting policymakers, media, entrepreneurs, regulators, corporates, and professionals.
each targeting policymakers, media, entrepreneurs, regulators, corporates, and professionals.