COMSTECH Science, Technology & Innovation (STI) Policy Research & Training Centre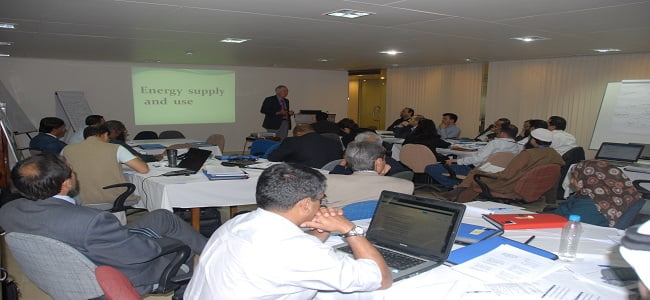 Introduction
COMSTECH Science, Technology & Innovation (STI) Policy Research & Training Centre was established in 2006 to realize the vision of centre for science and techno-economic studies for the Islamic world approved by the fourth OIC Summit held in 1984 in Morocco. Located at the COMSTECH Secretariat in Islamabad, Pakistan, the Centre has been entrusted with following aims and objectives: (i) Act as a think-tank specializing in providing high-quality advisory services on STI to OIC member states; (ii) build capacity in STI by offering training for public policy makers, researchers, entrepreneurs and business managers; (iii) Initiate and conduct research on STI policy issues and to assist in the formulation and review of STI policy making in OIC member states; (iv) provide a forum for consultation and collaboration for STI policy makers and implementers, academic and research fraternity and the business community in OIC member states; and (v) develop collaborative linkages between well established STI Policy research and STI Policy advisory institutions in OIC member states and with world's best institutions.
Key Activities
Capacity building of senior managers, researchers and policy makers of OIC member states in STI policy formulation and implementation strategies through training courses.
Consultancy services to member states for review of STI policies and innovation system.
Research on STI related issues.
Training Courses
Since its establishment the STI Policy Research and Training Centre has organized 20 training courses and 2 workshops on the following topics:
Science, Technology and Innovation: Five intensive training courses on Science, Technology and Innovation Policy have been organized with a focus on key concepts of innovation; economic history of innovation; building of national innovation systems; and best practices of STI policy for meeting challenges of globalization.
Innovation & Entrepreneurship: Three training courses have been organized so far. Modules covered in these courses include methods of entrepreneurship and strategic and business planning; university-industry partnership; intellectual property rights; role of technology incubators and technology parks for technology entrepreneurship and lastly the policy inputs for creating an ecosystem for entrepreneurship.
Technology Transfer Policy for Developing Countries: Two training courses were conducted with a focus on: different modes of technology transfer; the role of multinationals; diaspora networks and international training; joint research; international alliances; joint ventures; technology transfer leading to technical change and public policy for technology transfer. Best practices in Japan, South Korea, China, India and Brazil.
Foresight For Innovation Policy: Six courses on Foresight were organized. The key topics covered included: objectives of foresight; introduction to foresight methods; environmental scanning; forecasting; Delphi and other methods of envisioning future; developing and using scenarios; causal layered analysis (CLA); planning a foresight exercise; future technological prospects; social foresight; and regional and national foresight case studies.
Intellectual Property Rights (IPR): Two courses on IPR were offered in 2011. Topics covered in these courses were introduction to IPR; IP practices in OIC states; issues related to IPR; IPRs for Technology Transfer and Commercialization; Research Organizations and IP Policy; IPRs and Building of Innovation Systems; practical exercises on Patent writing and Trademark registration, and Techniques for enhancing Innovation skills.
Training Courses held during 2006-2014
Technology Transfer Policy and Industry Level Perspectives (12-18 July, 2006)
Technology, Innovation and Entrepreneurship (20-31 August, 2007)
Stakeholders Workshop on the Establishment of Technology and Innovation Policy Research Centre at COMSTECH28 – 30 March, 2008
Science, Technology and Innovation (21 April – 16 May, 2008)
Foresight (30 June – 11 July, 2008)
Science, Technology and Innovation (6-24 April, 2009)
Innovation and Entrepreneurship (18 – 29 May, 2009)
Foresight (29 June – 10 July, 2009)
Technology Transfer Policy for Developing Countries (12 – 17 October, 2009):
Design and Evaluation of Innovation Policy in Developing Countries (7 -12 December, 2009):
Foresight (22 February – 5 March, 2010)
Technology and Innovation Policy (19 – 30 April, 2010)
Technology and Innovation Policy , March 14-19, 2011
Intellectual Property Rights (IPR) and Innovation Policy , June 6-10, 2011
Intellectual Property Rights and Technology Transfer, Oct. 31 – Nov. 2, 2011
Foresight for Innovation November 28 – December 2, 2011
Innovation and Future Studies for Sustainable Development March 5-9, 2012
Int'l Conference on Science Policies and Restructuring of National Systems of Innovation October 3-5, 2012.
Innovation and Enterpreneurship, November 12-16, 2012.
Foresight for Innovation Policy, August 26-30, 2013.
The role of higher education in the knowledge economy, Sept. 21-25, 2014
Essentials of entrepreneurship – A toolkit for entrepreneur, December 9-11, 2014
Participation in Training Courses
So far COMSTECH training courses have trained 603 participants by 140 subject experts invited from the world's best institutions including 65 from abroad. These participants came from 28 OIC member states including Algeria, Bangladesh, Bahrain, Brunei Darussalam, Egypt, Gambia, Indonesia, Iran, Iraq, Jordon, Kazakhstan, Libya, Malaysia, Maldives, Morocco, Nigeria, Oman, Pakistan, Saudi Arabia, Senegal, Sierra Leone, Sudan, Syria, Tajikistan, Tunisia, Turkey, Uzbekistan and Yemen.
Table 16. Participation details
| | | | | | |
| --- | --- | --- | --- | --- | --- |
| S.No | Country | Participants | S.No | Country | Participants |
| 1. | Algeria | 3 | 2. | Bahrain | 3 |
| 3. | Bangladesh | 25 | 4. | Brunei-Darussalam | 1 |
| 5. | Egypt | 9 | 6. | Gambia | 5 |
| 7. | Indonesia | 10 | 8. | Iran | 40 |
| 9. | Iraq | 5 | 10. | Jordan | 15 |
| 11. | Kazakhstan | 6 | 12. | Libya | 1 |
| 13. | Maldives | 2 | 14. | Malaysia | 14 |
| 15. | Morocco | 7 | 16. | Nigeria | 28 |
| 17. | Oman | 14 | 18. | Pakistan | 402 |
| 19. | Saudi Arabia | 4 | 20. | Senegal | 1 |
| 21. | Sierra Leone | 1 | 22. | Sudan | 25 |
| 23. | Syria | 3 | 24. | Tajikistan | 1 |
| 25. | Tunisia | 4 | 26. | Turkey | 15 |
| 27. | Uzbekistan | 1 | 28. | Yemen | 6 |
| | | 94 | | | 557 |
Publications
COMSTECH Centre for Policy Research and Training has published the following research studies in the form of Reports, Books and Journal Articles:
Migration of the highly skilled and its Impact on the Economic and Technological Development of Pakistan and Bangladesh, 2010. Research study commissioned by South Asian Network for Economic Research Institutes (SANEI), sponsored by World Bank.
Leading Scientists and Engineers of OIC Member States, published by COMSTECH (2008).
Steps in Establishing a Productive Science & Technology Policy in Nigeria", Interim report by the International Advisory Board, Joint Nigeria / UNESCO project for Reform of the Science, Technology and Innovation System of Nigeria, published by UNESCO (2006).
Science and Technology Policy for Industrialization, Case Studies: Pakistan, South Korea, Malaysia and Egypt, Lessons for OIC countries, published by COMSTECH (2005).
Status of Scientific Research in the OIC Member States published by COMSTECH (2005).
Best Practices in Innovation Policy (under preparation)
Research Papers Published
"Critiquing the Social Construct of the Hawala System", Journal of Futures Studies (in press)
"Demystifying the Hawala System using Causal Layered Analysis", The Causal Layered Analysis Reader 2.0 Taipei: Tamkang University Press. (in press)
"Foresight as a Tool for Sustainable Development in Natural Resources: The Case of Mineral Extraction in Afghanistan" Resources Policy, Vol. 39 (2014) pp 92–100
"Afghanistan Mineral Resources and Implications on India's Future" Futures, Vol. 56 (2014) pp 94–97
SWOT Analysis of OIC Member States", published online on COMSTECH website, (2013)
"Futures 101 for the Top Guns", Journal of Futures Studies (Vol 17, No.4, June 2013), 135-138
"E-Health Futures in Bangladesh" Futures: The Journal of Policy, Planning and Futures Studies, Vol. 15 No.3 2013 pp177-189
"Three Possible Pro-poor Futures of Afghanistan" East-West Affairs, Chicago, (2013)
"The Futures of Mineral Extraction in Afghanistan", In proceedings of the 10th GLOBELICS International Conference, Hangzhou, China, (2012)
Chapter on South Asia (Afghanistan, Bangladesh, Maldives, Nepal, Pakistan and Sri Lanka) published in UNESCO Science Report 2010.
OIC Member States – The Road to a Knowledge Economy (Lessons from Contrasting Innovation Systems of 34 Scientifically Lagging OIC Countries with East Asian Countries)" in Virtual Incubator for Science-based Business (VISB) and on COMSTECH website, (2010).
"Mining Futures: Beyond the Headlines" published in the Journal of Future Studies, Vol. 15, No.2: 17-32, (2010)
A Fortnight of Foresight, published in the Futures Bulletin of the World Futures Studies Federation, Vol. 34, No. 4: 18-20, (2009)
Mapping Scientific Research in Member States of the Organization of Islamic Countries, published by UNESCO, Paris, (2009) (Occasional Paper No. 17).
The Dynamics of Innovation and Technology Capability in Pakistan" in Science, Technology Policy and the Diffusion of Knowledge" Edited by Tim Turpin and V.V. Krishna published by Edward Elgar, (2007).
Science and Technology Polices for Industrialization Case studies South Korea, Malaysia, Egypt and Pakistan published in Blue Chip, November 2004, Islamabad.
Essentials for Innovation Economy and New S&T Initiatives in Pakistan, paper published in proceeding of the international Conference on Regional Innovation System and S&T Policies in Emerging Economies, Experiences from China and the World 19th -21st April, 2004 Canton, China.
Reports/ Briefs
"Science and Technology Development in OIC Member States" Concept paper prepared for forthcoming OIC summit in 2014 (May 2013)
"Innovation Capabilities in OIC Member States" study conducted for Islamic Development Bank and presented at the Expert Group Meeting on "Innovation for Economic Development in IDB Member Countries" 18-19 February 2013, Jeddah, Saudi Arabia (February 2013)
"Guidelines for Promotion of Private R&D in OIC Countries" report prepared for Islamic Development Bank (April 2012)
"Developing a Knowledge Economy" report prepared for Islamic Academy of Sciences, Jordan (2012).
Funding and Facilities
COMSTECH, Islamic Development Bank (IDB), and Higher Education Commission (HEC) of Pakistan jointly fund the training courses.
COMSTECH offers excellent conference and accommodation facilities under the same roof. Thus, it provides an opportunity to engage participants and speakers in informal discussions besides the lecture room talks. In addition to accommodation and meals, the guest house offers free gym and internet connections. Free access to computer lab is also offered to all participants during the working hours. Participants benefit from this facility to complete their assignments.