A panel discussion on STEM – Women in the COVID-19 Pandemic
Dates & Time: 11th February 2021 (03:00pm – 04:30pm Pakistan Standard Time)
On the occasion of International Day of Women and Girls in Science this year, COMSTECH brings together a panel of illuminating scientists and champions of women in STEM to shed light on new opportunities & challenges that have risen due to emergence of COVID-19 pandemic.
Themes
Theme areas to be covered
Shift in research & academic models due to COVID-19
Impact of COVID-19 on open science and global research collaboration
Contribution of Women scientists in the covid-19 pandemic
Policy shifts required to increase women's participation in national and sub-national decision-making processes related to STEM
Format: Panel discussion with 15-20 minutes to each panelists and 15 minutes for Q/Ans session.
Participation: This event is open to science policy makers, academicians, scientists and general public globally.
Link for registration and E- certificate
https://forms.gle/x4b9MCgrnsR4XJhc8
Procedure to join
Topic: A panel discussion on STEM – Women in the COVID-19 Pandemic
Time: Feb 11, 2021, 03:00 PM Islamabad, Karachi, Tashkent

Join Zoom Meeting
https://us02web.zoom.us/j/81123276693?pwd=WXdNcFVUMGRZcGNYWGtqVUFaZ1VaUT09

Meeting ID: 811 2327 6693
Passcode: 011156
Participants can be part of this thought provoking discussion by giving their feedback and suggestions on the questionnaire link below. Participants will receive E-certificates.
https://forms.gle/KhXoHqdyCgfR51RR9
Contact Information:
Phone No. : 92 51 9220681-3
Email: Khazima@comstech.org ; comstech@comstech.org
Brief intro of Panellists
Coordinator General COMSTECH, Director International Centre for Chemistry and Biological Sciences (ICCBS), university of Karachi,Pakistan
A member and fellow of many prestigious societies including Fellow of the Third World Academy of Sciences, Islamic Academy of Sciences, Chemical Society of Pakistan, Royal Society of Chemistry (London) and LEAD-International.
The recipient of the 1st Khawarizmi International Award and Prize from the President of Islamic Republic of Iran, Economic Cooperation Organization (ECO) Award in Education by the President of Azerbaijan and COMSTECH Award in Chemistry by the Prime Minister of Pakistan.
Won several national and international awards such as Hilal-e-Imtiaz, Sitara-e-Imtiaz and Tamgha-e-Imtiaz by the President of Pakistan, Pakistan Academy of Sciences Gold Medal, National Book Foundation Prize on best book and the Third World Academy of Sciences Young Scientist Prize.
Received the prestigious title of "Distinguish National Professor" from the Higher Education Commission in 2004.
Prof. Dr. Tim Unwin
Honorary Professor at Lanzhou University in China.
Co-Founder of TEQ together (an initiative to change men's attitudes and behaviors towards women and technology), Chair of the Intellectual Leadership Team of the DFID-World Bank technology for Education Hub.
A Distinguished Fellow of the Globalization, Ageing, Innovation and Care Network at Tilburg University in the Netherlands.
Prof. Dr. Khatijah Yusoff
First woman being selected as Deputy Vice-Chancellor for Academic and International Affairs at Universiti Putra Malaysia (UPM).
A highly respected academician and a much-acclaimed virologist who has distinguished herself through her extensive work on the Newcastle Disease Virus (NDV), a poultry virus.
Worked for Office of the Science Advisor to the Prime Minister of Malaysia, establishing the National Science and Research Council, the Nanotechnology Directorate, the National Bioethics Council, and the National Institutes of Biotechnology.
Elected as a Fellow of the Academy of Sciences Malaysia in 2007 and a Fellow of the Islamic World Academy of Sciences in 2008 and The World Academy of Sciences (TWAS) in 2010.
The second Asian scientist ever to win the UNESCO Carlos Finlay Prize in 2005 for her outstanding work in the field.
Dr. Rana Dajani
Professor of molecular cell biology, Jordan, visiting professor Yale, Cambridge and Harvard.  Most influential women scientists in Islamic World, 12 among100 most influential Arab women. President of the Society for the Advancement of Science, Technology and Innovation in the Arab World.
Developed "We love reading" Changing mindsets through reading to create changemakers received: World Innovation Summit in Education Award, King Hussein Medal of Honor, UNESCO International Literacy Prize, the Jacobs social entrepreneurship award, Science, Technology and Innovation Award UN, Ashoka Fellow, UNHCR Nansen refugee award.
Author of the book: Five scarves, Doing the impossible: If we can reverse cell fate why cant we redefine success, Nova Publisher 2018. Reviewed by Nature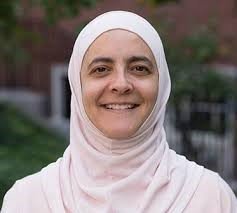 Dr. Sumbla Farooq Sheikh
Dr. Sheikh is currently working at the Department of Neuroradiology, University Hospital, Tuebingen University, Germany.
She has also been working as an Adjunct Professor at HEJ Research Institute of Chemistry, University of Karachi, Pakistan since 2017.
Her research primarily focuses on the design and development of contrast agents for the early detection of cancer with a special focus on glioblastoma and prostate carcinoma.